Between the Star Boy and the City Boy: Humour, Sarcasm and Rhetoric-Induced (De)Marketing in a Nigerian Presidential Primary Election
Palavras-chave:
Estratégia de (des)marketing, APC-Nigéria, Humor, Memes, Eleições Primárias presidenciais
Resumo
Entre o Menino Estrela e o Menino da Cidade: Humor, Sarcasmo e (Des)Marketing Induzido pela Retórica nas Eleições Presidenciais Primárias da Nigéria
Para além do contexto da comunicação política, as pistas de comunicação não-verbal são tão potentes que as suas interpretações podem superar a intencionalidade dos interlocutores que as produzem. Este estudo analisa as estratégias comunicativas e retóricas em sete memes políticos, intencionalmente selecionados e criados por nigerianos, antes do partido do governo da Nigéria, o All Progressives Congress (APC), realizar as suas eleições presidenciais primárias, tendo em vista as eleições presidenciais de 2023 no país. O estudo concentrou-se na forma como os memes comercializaram e desmercantilizaram as candidaturas do vice-presidente da Nigéria, professor Yemi Osinbajo (star boy - o menino estrela), e do ex-governador do estado de Lagos, Asiwaju Bola Ahmed Tinubu (city boy - o menino da cidade). Impulsionado pela teoria de resolução da teoria da incongruência na configuração do humor, pelo enquadramento retórico e pelo modelo sócio-semiótico para análise visual, o estudo identificou dois temas gerais e cinco subtemas dos memes. No primeiro tema — enquadramento coletivo de atores políticos —, Tinubu e Osinbajo foram enquadrados como competidores combatentes. Para o segundo tema geral — enquadramento individualizado de gladiadores políticos —, subtemas como Osinbajo como um político gentil, Tinubu como influenciador, Tinubu como um bandido e Osinbajo como um traidor dominaram. O estudo recomenda que, para se estabelecer uma melhor atmosfera democrática na Nigéria, os atores políticos devem enfatizar a educação cívica correta no espaço público nigeriano e enfatizar questões de campanha pertinentes, em vez de irrelevâncias.
Referências
Al Zidjaly, N. (2017). Memes as reasonably hostile laments: A discourse analysis of political dissent in Oman. Discourse & Society, 28(6), 573-594.
Attardo, S. (1997). The semantic foundations of cognitive theories of humor. Humor- International Journal of Humor Research, 10(4). https://doi.org/10.1515/humr.1997.10.4.395
Akande, B. (2020). My Participations: An Autobiography. Gaskia Media Limited.
Ajayi, O. (2022). APC Primary: Osinbajo and Tinubu now last men standing, says Senator Gaya. Vanguard, June 7. https://www.vanguardngr.com/2022/06/apc-primary-osinbajo-and-tinubu-now-last-men-standing-says-senator-gaya/
Abdulkareem, M. (2022). The real winners, losers of APC presidential primary. Premium Times, June 10. https://www.premiumtimesng.com/news/headlines/535937-the-real-winners-losers-of-apc-presidential-primary.html
Bamgbose, G. (2021). Multimodal analysis of post-election memes in the Edo State (Nigeria) 2020 Gubernatorial Election. Argentinian Journal of Applied Linguistics, 9(2).
Briandana, R. (2019). Representation of political ideology in advertising: semiotics analysis in Indonesia television. International Journal of English Literature and Social Sciences, 4(3), 764-775.
Couder, O. (2019). Problem solved? Absurdist humour and incongruity-resolution. Journal of Literary Semantics, 48(1), 1-21.
Charteris-Black, J. (2004). Corpus Approaches to Critical Metaphor Analysis. Palgrave Macmillan.
Charteris-Black, J. (2011). Politicians and Rhetoric: The Persuasive Power of Metaphor. Palgrave Macmillan.
Clementson, D. E., Pascual-Ferra, P., & Beatty, M. J. (2016). How language can influence political marketing strategy and a candidate's image: Effect of presidential candidates' language intensity and experience on college students' ratings of source credibility. Journal of Political Marketing, 15(4), 388-415.
Dimitrov, D., Ali, B.B., Shaar, S., Alam, F., Silvestri, F., Firooz, H., Nakov, P. & Martino, G.D.S. (2021). Detecting propaganda techniques in memes. arXiv preprint arXiv:2109.08013.
DeCook, J. R. (2018). Memes and symbolic violence:# proudboys and the use of memes for propaganda and the construction of collective identity. Learning, Media and Technology, 43(4), 485-504.
Daramola, K. (2022). Shettima: Osinbajo is nice but nice men don't make good leaders — they sell ice cream. The Cable, June 3. https://www.thecable.ng/shettima-osinbajo-is-nice-but-nice-men-dont-make-good-leaders/amp
Dewi, O.C. (2022). Face Masks, Between Social and Political Messages in Covid-19 Pandemic: A Semiotic Analysis. Metahumaniora, 12(2).
Delaney, S. (2015). Attack is the best form of defence: the golden rules of political campaigning. The Guardian, February 11. https://www.theguardian.com/politics/2015/feb/11/political-campaigning-advertising-golden-rules
Gbadeyan, R.A. (2011). Political marketing strategies and democracy in Nigeria. Asian Journal of business management, 3(1), 8-17.
Geise, S., &Vigsø, O. (2017). Methodological approaches to the analysis of visual political communication through election posters. In Election Posters Around the Globe (pp. 33-52). Springer, Cham.
Howley, K. (2016). 'I have a drone': Internet memes and the politics of culture. Interactions: Studies in Communication & Culture, 7(2), 155-175.
Halliday, M.A.K., & Matthiessen, C. (2004). An Introduction to Functional Grammar. 3rd edition. Hodder Arnold.
Habib, M.A.F., Ratnaningsih, A.P.A., & Sinabutar, M.J. (2021). Semiotics analysis of Ahok-djarot's campaign video on Youtube social media for the second round of the 2017 DKI Jakarta Gubernatorial Election. Journal of Urban Sociology, 4(2), 76-89.
Kuypers, J. A. (2010). Framing analysis from a rhetorical perspective. In D'Angelo, P. & Kuypers, J.A. (eds.). Doing News Framing Analysis: Empirical and Theoretical Perspectives. Routledge, pp. 287-313.
Kuipers, G. (2009). Humor Styles and Symbolic Boundaries. Journal of Literary Theory, 3(2). doi:10.1515/jlt.2009.013
Kress, G., & van Leeuwen, T. (1996). Reading Images: The Grammar of Visual Design. Routledge.
Kulkarni, A. (2017). Internet meme and Political Discourse: A study on the impact of internet meme as a tool in communicating political satire. Journal of Content, Community & Communication Amity School of Communication, 6.
Koc, E. & Ilgun, A. (2010). An investigation into the discourse of political marketing communications in Turkey: The use of rhetorical figures in political party slogans. Journal of Political Marketing, 9(3), 207-224.
Lee, S. (2022). Analysis of humor from the perspective of incongruity theory: Focusing on a YouTube parody video titled 'Parodysite'. Liberal Arts Basic Education Research, 3(1), 63-76.
Mas' ud, M.M. & Hamsiah, A. (2020). A semiotic analysis of political news featured in Indonesia Newspapers. International Journal of Innovation, Creativity, and Change, 1627-1640.
Martínez-Rolán, X. & Piñeiro-Otero, T. (2016). The use of memes in the discourse of political parties on Twitter: analysing the 2015 state of the nation debate. Communication & Society, 29(1), 145-160.
Nsungo, D.P. (2021). A pragma-semiotic analysis of selected editorial cartoons in Vanguard Newspaper of February–March, 2018. Sapientia: Journal of Philosophy, 15.
Oyeleke, S. (2022). Full result of APC presidential primary. Punch, June 8. https://punchng.com/full-result-of-apc-presidential-primary/
Oluwafemi, A. (2022). I have no son grown enough to declare, says Tinubu on Osinbajo's presidential bid. The Cable, April 11. https://www.thecable.ng/ive-no-son-grown-enough-to-declare-says-tinubu-on-osinbajos-presidential-bid
Orkibi, E. (2015). 'New politics', new media–new political language? A rhetorical perspective on candidates' self-presentation in electronic campaigns in the 2013 Israeli elections. Israel Affairs, 21(2), 277-292.
Osei Fordjour, N.K. (2021). A multimodal social semiotic analysis of an African Vice President on Twitter. Visual Communication Quarterly, 28(4), 227-239.
Pedro, O. (2022). APC presidential primary: Nine aspirants who withdrew from the race. ICIR, June 8. https://www.icirnigeria.org/apc-presidential-primary-nine-aspirants-who-withdrew-from-the-race/
Phillips, R.J. (2018). Frames as boundaries: Rhetorical framing analysis and the confines of public discourse in online news coverage of Vegan parenting. Journal of Communication Inquiry, 019685991881482. https://doi.org/10.1177/0196859918814821
Punch (2022). I brought Buhari out of political retirement, assisted him to emerge President – Tinubu. https://punchng.com/i-brought-buhari-out-of-political-retirement-assisted-him-to-emerge-president-tinubu/
Qian, X. (2017). (De) humanization of the Chinese and the Malays in the Sin Chew Daily and the New Straits Times: A semiotic study of the 2013 Malaysian elections. Master's thesis, Kuala Lumpur: International Islamic University Malaysia.
Raskin, V. (1985). Semantic Mechanisms of Humor. Reidel.
Ross, A.S. & Rivers, D. J. (2017). Digital cultures of political participation: Internet memes and the discursive delegitimization of the 2016 US Presidential candidates. Discourse, Context & Media, 16, 1-11.
Seiffert-Brockmann, J., Diehl, T. & Dobusch, L. (2018). Memes as games: The evolution of a digital discourse online. New Media & Society, 20(8), 2862-2879.
Shane, T. (2018). The semiotics of authenticity: Indexicality in Donald Trump's Tweets. Social Media+ Society, 4(3), 2056305118800315.
Shifman, L. (2013). Memes in a digital world: Reconciling with a conceptual troublemaker. Journal of computer-mediated communication, 18(3), 362-377.
Stoian, C. E. (2015). Analysing images: a social semiotic perspective. Scientific Bulletin of the Politehnica University of Timişoara Transactions on Modern Language, Vol. 14, No. 1, 23-30.
Schubert, C. (2021). Multimodal cohesion in persuasive discourse: A case study of televised campaign advertisements in the 2020 US presidential election. Discourse, Context & Media, 43, 100537.
Tella, A. (2018). Humour generation and multi-modal framing of political actors in the 2015 Nigerian presidential election memes. European Journal of Humour Research 6 (4) 95– 117.
Vanguard (2022). Osinbajo @ 65: A Starboy with Big God. https://www.vanguardngr.com/2022/03/osinbajo-65-a-starboy-with-big-god/
Yus, F. (2017). Incongruity-resolution cases in jokes. Lingua, 197, 103-122.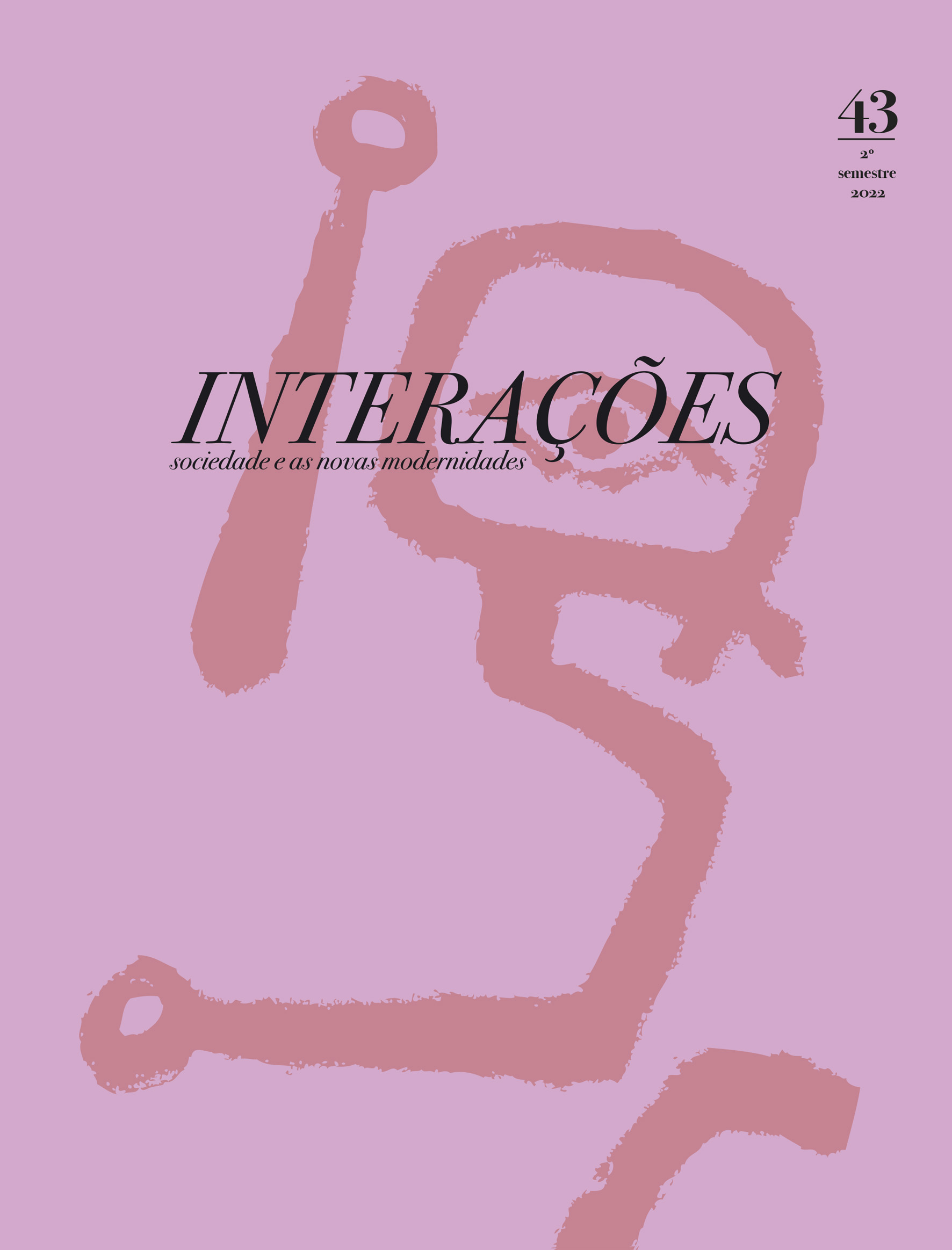 Como Citar
Ajetunmobi, U., & Imam, M. (2022). Between the Star Boy and the City Boy: Humour, Sarcasm and Rhetoric-Induced (De)Marketing in a Nigerian Presidential Primary Election. Interações: Sociedade E As Novas Modernidades, (43), 85-106. https://doi.org/10.31211/interacoes.n43.2022.a4
Direitos de Autor (c) 2022 Umar Olansile Ajetunmobi, Muhyideen Imam
This work is licensed under a Creative Commons Attribution-NonCommercial 4.0 International License.
Os direitos autorais dos trabalhos publicados são retidos pelo autor que outorga à Interações o direito de publicação original. O artigo publicado pode ser utilizado livremente para fins educacionais, não comerciais, em conformidade com a Licença Creative Commons - Atribuição-NãoComercial 4.0 Internacional, contando que seja citado o autor, o título do artigo, o título e número da revista conjuntamente com o URL ou DOI do artigo.