Learning from Lisbon Or, how postmodernism conquered Portugal
Palavras-chave:
Pós-modernismo, Arquitetura, História urbana, Lisboa, Portugal
Resumo
O centro comercial Amoreiras, em Lisboa, é um ícone do pós-modernismo português. Quando abriu pela primeira vez em 1985, o seu design kitsch destacou-se de forma conspícua no meio de uma paisagem de elegantes ruas comerciais pombalinas, edifícios de habitação social e casas turísticas revestidas de azulejos "tradicionais". Mas também refletiu um momento crucial na história portuguesa e ainda permanece hoje como uma lembrança das aspirações consumistas do Portugal pós-revolucionário, das políticas neoliberais que passaram a dominar a vida em muitas nações ocidentais e das contradições gritantes do capitalismo global. Partindo de uma discussão inicial sobre as Amoreiras, este pequeno ensaio explora criticamente as transformações recentes na paisagem urbana e arquitetónica de Lisboa e traça as suas origens políticas e económicas. Ao fazê-lo, sugere formas através das quais o pós-modernismo pode ser considerado um conceito relevante para descrever a sociedade portuguesa contemporânea.
Referências
Amoreiras Shopping Center. (n.d.). About. Retrieved October 1, 2020, from https://amoreiras.com/en/about
Baklanoff, E. N. (1992). The Political Economy of Portugal's Later "Estado Novo": A Critique of the Stagnation Thesis. Luso-Brazilian Review, 29 (1), 1–17.
Broadbent, G. (1990). Introduction. In Tomás Taveira. Academy Press/St. Martin's Press.
Cardim, J. (2013). The role of shopping malls in shaping the Lisbon Metropolitan Area: The Amoreiras Shopping Center case study. Revista Lusófona de Arquitectura e Educação, 8–9, 145–169.
Carvalho, R. A. (2018). Ideology and architecture in the Portuguese "Estado Novo": Cultural innovation within a para-fascist state (1932–1945). Fascism, 7, 141–174. https://doi.org/10.1163/22116257-00702002
Castells, M. (1977). The urban question: a Marxist approach. Edward Arnold.
Cocola-Gant, A & Gago, A. (2019). Airbnb, buy-to-let investment and tourism-driven displacement: A case study in Lisbon. EPA: Economy and Space, 0(0), 1–18.
Debord, G. (2005). Society of the spectacle. Rebel Press.
European Union. (2014). The economic adjustment programme for Portugal 2011–2014. https://ec.europa.eu/economy_finance/publications/occasional_paper/2014/pdf/ocp202_en.pdf
Harvey, D. (1992). The condition of postmodernity: an enquiry into the origins of cultural change. Blackwell.
Jencks, C. (1978). The language of post-modern architecture (2nd ed.). Academy Press.
Lestegás, I. (2019). Lisbon After the Crisis: From Credit‐fuelled Suburbanization to Tourist‐driven Gentrification. International Journal of Urban and Regional Research, 43(4), 705–723. https://doi.org/10.1111/1468-2427.12826
Lund Hansen, A. (2003). Rescaling of the commercial property market and changing urban governance in Lisbon. Géocarrefour, 78(4), 301–312. https://doi.org/10.4000/geocarrefour.362
Lyotard, J.-F. (1984). The postmodern condition: a report on knowledge. University of Minnesota Press.
Ritzer, G. (2010). Enchanting a disenchanted world: Continuity and change in the cathedrals of consumption. Pine Forge Press.
Soja, E. (2000). Postmetropolis: critical studies of cities and regions. Blackwell.
Taveira, T. (2002). Interview: Tomás Taveira talks to Maggie Toy. In Tomás Taveira. Artmedia Press.
Tulumello, S. (2015). Reconsidering neoliberal urban planning in times of crisis: urban regeneration policy in a "dense" space in Lisbon. Urban Geography, 37(1), 117–140. https://doi.org/10.1080/02723638.2015.1056605
Urry, J. (2002). The tourist gaze (2nd ed.). Sage.
World Travel & Tourism Council. (2018). Travel and tourism economic impact 2018 Portugal. https://www.sgeconomia.gov.pt/ficheiros-externos-sg/wttc_portugal2018-pdf.aspx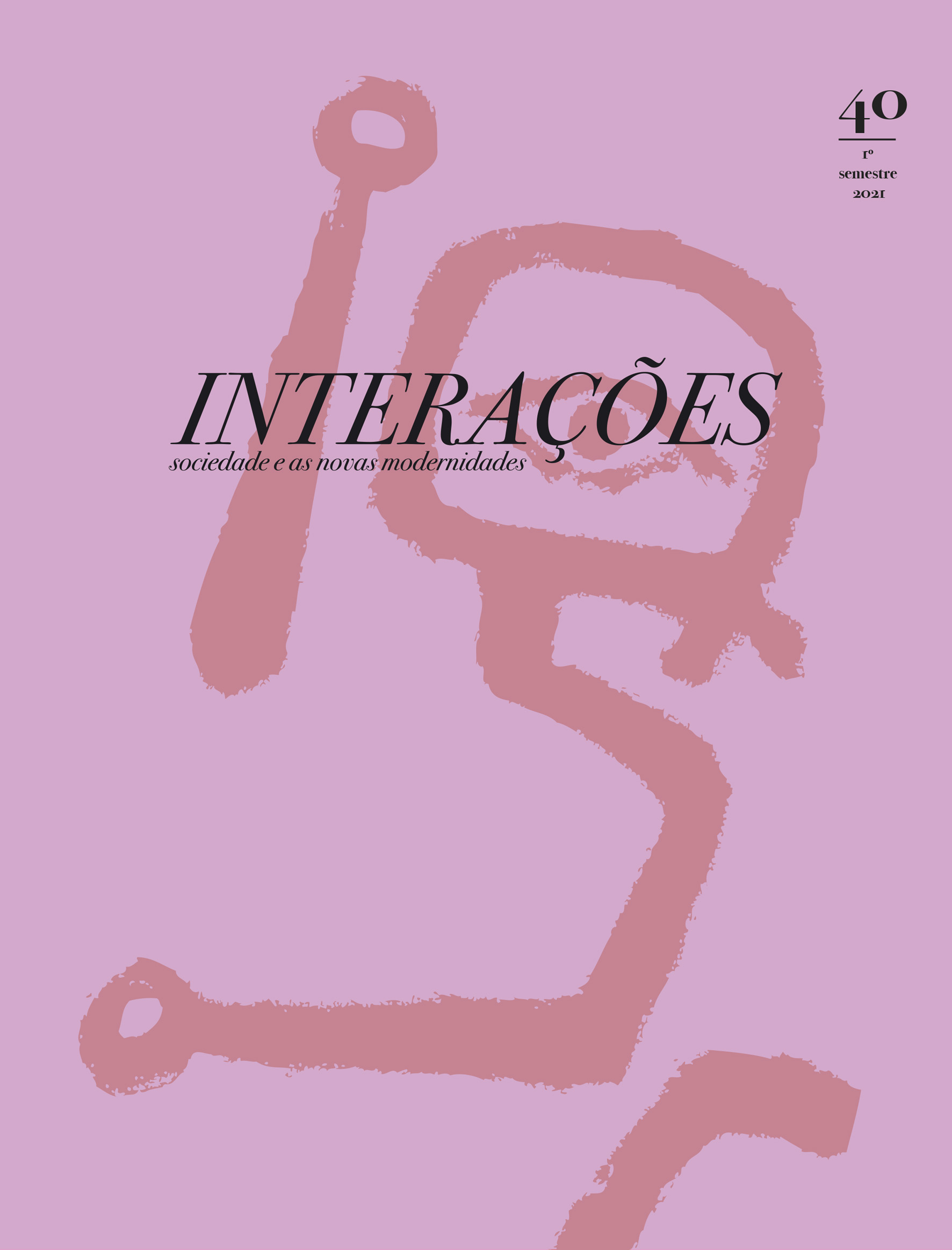 Como Citar
Ross, R. (2021). Learning from Lisbon Or, how postmodernism conquered Portugal. Interações: Sociedade E As Novas Modernidades, (40), 107-115. https://doi.org/10.31211/interacoes.n40.2021.a5
Direitos de Autor (c) 2021 Reuben Connolly Ross
This work is licensed under a Creative Commons Attribution-NonCommercial 4.0 International License.
Os direitos autorais dos trabalhos publicados são retidos pelo autor que outorga à Interações o direito de publicação original. O artigo publicado pode ser utilizado livremente para fins educacionais, não comerciais, em conformidade com a Licença Creative Commons - Atribuição-NãoComercial 4.0 Internacional, contando que seja citado o autor, o título do artigo, o título e número da revista conjuntamente com o URL ou DOI do artigo.